Zinc Ribbon Anodes for Cathodic Protection, by Plattline
Description
Description
| | |
| --- | --- |
| | Plattline zinc ribbon anodes are ideal as a cathodic protection system for coated pipe. They are simple to install.Shown in this photograph is installation of Plattline on 387 miles of the Alyeska Pipeline. |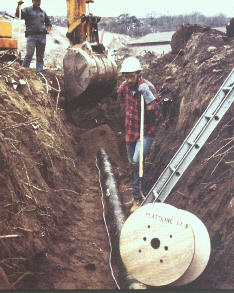 Zinc Ribbon Anodes for Cathodic Corrosion Protection
Plattline™ zinc ribbon anodes provide a very simple, cost effective, maintenance free method of corrosion control for buried or immersed metals such as iron, steel, aluminum copper, etc. Zinc is especially useful for unattended applications; those where other cathodic protection systems requiring monitoring and frequent maintenance or an external power source are not possible.Plattline zinc ribbon anodes are used in a variety of applications: for cathodic protection on buried pipelines, for A.C. mitigation on pipelines, for sacrificial cathodic protection of secondary bottoms on above-ground storage tanks, for A.C. mitigation grounding mats, and for many other corrosion protection applications.Plattline is an ideal primary or supplemental cathodic protection system. It can also be used as a temporary system prior to the installation of an impressed current system.
Applications

External areas of steel pipe, especially in difficult environments such as below grade in rocky and mountainous terrain, thawed zones in permafrost.
Interior bottom areas of oil storage tanks where salt water settles out.
Exterior bottom of oil storage tanks.
Interstitial spaces between old, corroded and new storage tank bottoms.
In the limited space between inner and outer casings of wells of various kinds.
For grounding steel tower footings of overhead power systems.
To provide cathodic protection as well as to dissipate induced AC current on coated steel pipe.
For personal safety as well as corrosion protection. To ground valves and test stations of pipelines which are subject to induced AC current and fault currents.

Electrochemical Properties of Zinc Ribbon Anodes

| | | |
| --- | --- | --- |
| | Plattline Type I | Plattline Type II |
|   Open Circuit Potential (-V)* | 1.05 min | 1.10 min. |
|   Closed Circuit Potential (-V)* | 1.00 min. | 1.05 min. |
|   Current Capacity (amp-hrs/lb) | 372 | 372 |
|   Galvanic Efficiency (%) | 95 | 90 |
|   Consumption-Actual (lb/amp•yr) | 24.8 | 26.2 |

Features

High Current output to volume ratio.
Easily conforms to any cathode length or configuration.
No special equipment is needed for installation.
Will not cause or magnify stray currents.
Generally used in soils of 2000 ohm-cm or less with prepared gypsum-clay backfill. However, Plattline can be used in soils with higher resistivity on well coated pipelines with low current requirements.
Because Plattline is in a continuous ribbon form, there is an even distribution of current density to the cathode.
Product
Size

Super

Plus

Standard

Small
Cross Section,
inches (mm)
1″ x 1 1/4″
(25.4 x 31.7)
5/8″ x 7/8″
(15.9 x 22.2)
1/2″ x 9/16″
(12.7 x 14.3)
11/32″ x 13/32″
(8.7 x 10.3)
Weight, pounds/foot
(Kg/meter)
2.4
(3.57)
1.2
(1.78)
0.6
(0.89)
0.25
(0.37)
Dia. of wire core
inches (mm)
0.185
(4.70)
0.135
(3.43)
0.130
(3.30)
0.115
(2.92)
Standard coil length
Feet (mm)
100 +10 -0
(30.5 +3 -0)
200 +20 -0
(61 +6 -0)
500 +30 -0
(152 +9 -0)
1000 +50 -0
(305 +15 -0)
Standard coil I.D.
inches (cm)
36
(91)
36
(91)
12
(30.5)
12
(30.5)
Packaging
Steel-banded, random-wound
open coils
Wood reels

Notes:
All dimensions and weights are nominal.
Wire core is galvanized steel.
Arctic" standard size has nominal core diameter of .163″ (4.14 mm).
Longer coil sizes are available on special order. Standard coil lengths of 1000′ and 3600′ are also available.
Alloys
PLATTLINE I is an alloyed zinc product and is generally used in sea water or brackish water. It meets the chemical requirements of MIL-A-18001K and ASTM B418-88 Type 1. The Super and Plus sizes are normally available from stock.

PLATTLINE II is a high-purity product and is generally used in underground and fresh water systems. It meets the chemical requirements of ASTM B418-88 Type II. The Standard and Small sizes are normally available from stock. An Arctic core can be substituted in this alloy's standard size.