UltraMag High Potential Magnesium Anodes for Cathodic Protection with Standard Ribbon Core
Description
In cathodic protection, the most widely used sacrificial anodes are magnesium anodes. When high potential magnesium anodes are required for high current applications, Farwest offers the UltraMag™ high potential magnesium anode.
The UltraMag anode is manufactured from high quality, primary magnesium under strict, state of the art production techniques, anode chemistry, testing and certification. For these reasons, the UltraMag anode meets or exceeds industry standards for high potential magnesium anodes. Please see our UltraMag Magnesium Anode white paper.
Production techniques and chemical composition insure that the UltraMag produces a driving potential that exceeds other sacrificial anodes, such as standard potential magnesium, aluminum or zinc. As a result, the UltraMag can produce more protective DC current for cathodic protection purposes.
At Farwest Corrosion, we attach a copper lead wire (size, length to and insulation type as specified) to the UltraMag anode and seal the connection interface.
As normally required, the anode is packaged in a cloth bag with a prepared backfill mixture that works to maintain moisture around the anode and lowers the anode to earth resistance.
UltraMag packaged anodes are shipped on pallets in plastic bags that must be removed prior to installation.
UltraMag Anode Chemistry*
Aluminum
Manganese
Copper
Silicon
Iron
Nickel
Others each
Magnesium
0.01% max
0.50 – 1.3%
0.02% max
0.05% max
0.03% max
0.001% max
0.05% max
Remainder
* Per ASTM B843 Industry Standard for M1C high potential magnesium anodes.
Anode Dimensions & Weights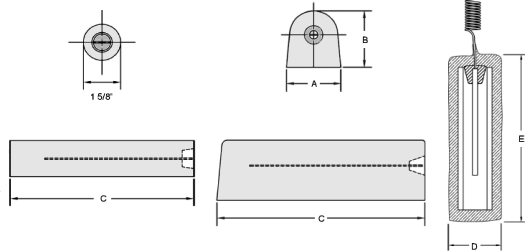 Anode Type
Bare Weight
Packaged Weight
Bare
Packaged
A
B
C
D
E
1R8
1
8
1-5/8″
8″
3-1/4″
10″
3D3
3
12
3-1/2″
3-3/4″
5″
5-1/2″
10″
5D3
5
17
3-1/2″
3-3/4″
8″
5-1/2″
14″
9D2
9
35
2-3/4″
3″
27″
5-1/2″
32″
9D3
9
27
3-1/2″
3-3/4″
13-7/8″
6″
17″
17D3
17
45
3-1/2″
3-3/4″
25-1/4″
6-1/2″
29″
20D2
20
70
2-3/4″
3″
56-3/4″
5-1/2″
66″
32D5
32
70
5-1/2″
5-3/4″
19-7/8″
8″
28″
40D3
40
100
3-1/2″
5-3/4″
60″
6-1/2″
66″
48D5
48
100
5-1/2″
5-3/4″
30-1/8″
8″
38″
60S4
60
126
4-3/8″
4″
60″
7″
64″