Pipeline Cathodic Protection (CIPS) and Coating Defect (DCVG) Surveys
Description
Pipeline Cathodic Protection (CIPS) and Coating Defect (DCVG) Surveys
 CP System BD Engineering has skilled technicians at all our office locations that specialise in Direct Current Voltage Gradient (DCVG) and Close Interval Potential Surveys (CIPS).
As an essential part of corrosion control, the DCVG survey is the most accurate method available to size and locate pipe coating defects. If a coating is compromised then the pipeline can be at risk of corrosion. The technique is based on measuring the voltage gradients in the soil above a cathodically protected pipeline. Once the technician has recorded the DCVG measurements and GPS locations, the %IR values are calculated. Depending on the degree of magnitude of the %IR, a determination can be made if physical examination direct assessment and repair are necessary.
The Close Interval Potential Survey (CIPS) technique assesses the cathodic protection effectiveness over the entire length of the pipeline, not solely at the test points. Cathodically protected pipelines are equipped with permanent test points where cables are attached to the pipeline to measure the pipe-to-soil potential. This potential should be sufficiently cathodic to ensure adequate corrosion protection.
During the CIPS survey, the technician will obtain the direct current pipe-to-soil potentials at regular and consistent intervals to evaluate the CP potentials of the pipeline. To achieve accurate potentials, the technician establishes an electrical connection to the pipeline by means of a trailing copper wire connected to CP test point. The wire unwinds from a spool as the operator walks the length of the pipeline, and the pipeline potential is measured with a set of reference electrodes at ground level, positioned directly over the pipeline at frequent intervals. GPS and CP potential data is collected while traversing the pipeline to create accurate reference points to find true pipe-to-soil potential along the entire length.
Features
10 different survey modes including Close Interval (CIPS), multiple DCVG channels, multiple impedance
Work with interruption cycles as fast as 1 second
User customizable alarms for change in potential, DCVG indication & broken trailing wire can be enabled to help ensure data integrity
Records chainage, date, time, altitude and GPS location data with each reading
Integrate with all Bluetooth enabled Radio Detection and Vivax Metrotech pipe locators to store depth of cover and signal strength data with CIPS & DCVG readings
Active AC filter to remove the effect of induced AC up to 100V
Run time of Hexcorder Pro is 24 hours, tablet is 11 hours under field conditions, optional extra batteries are available for the tablet
Rugged, sealed, quick connect push-pull connectors
Reads and stores waveforms
Comments can be easily entered into the data stream
User programmable GPS offset to work in local time
App support multiple languages
Designed to satisfy IP65 and EN61010 standards
Comprehensive 2 year warrant
Description
Benefits
Perform three different types of survey at the same time, CIPS, DCVG and GPS mapping
All data obtained at the same place & time  under the same field conditions
Easily correlate cathodic protection data with coating integrity data to better prioritize remediation
Stored waveforms allow the user to capture electrical interference
GPS location data can be imported into mapping software
Available integration with Bluetooth enabled pipe locators allows storage of depth of cover and signal strength data
PODS compatible data stored as a .csv text file
!! No special software required !!
!! Easy to open and graph in any standard spreadsheet or import into your database program!!
Software upgradeable by customer
Optional sub-meter GPS with <10cm global precision available
Optional custom tailored on-site survey training is available
Comprehensive 2 year warranty!
User Experience
Purpose built by corrosion professionals for corrosion professionals
Large rugged Mil Spec touchscreen tablet user interface
Custom graphics based App, easy to navigate, easy to learn
Multiple languages supported
View any 2 of 5 available screens,
Table, Graph, Map, Bird's Eye, Analog Gauge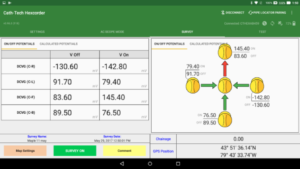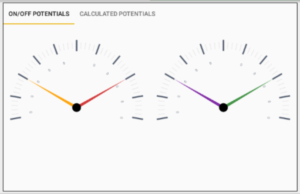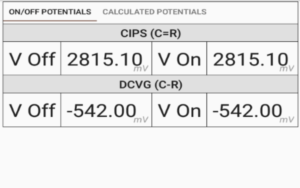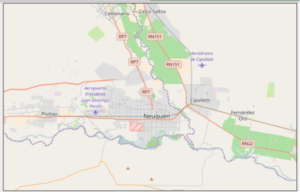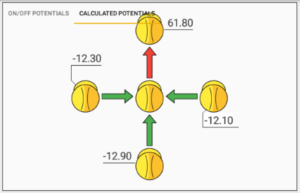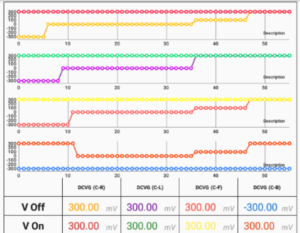 Ask the Corrosion Specialists