Description
PowerMag 1000 Auto-Potential Magnesium Anode Controller for Water Tanks
Provides a constant, IR Free potential to internal water tank surfaces. Uses magnesium anodes — no external power or batteries needed.
The POWERMAG 1000 (U.S. Patent 7585397) requires no external power or batteries, yet provides controlled and regulated cathodic protection current for the internal surfaces of steel reservoirs with the use of sacrificial, magnesium anodes. Costs are reduced while optimizing cathodic protection levels. Benefits include:
Automatic Potential Control
IR-Free Cathodic Protection Readings
Eliminates Remote Potential Error
NSF-61 Compatible
Uses Sacrificial Magnesium Anodes
Prolongs Anode Life
Prevents Over-Voltage Protection Issues
No External Power Needed
100% Green Technology
Simple to Install and Use
Compatible with NSF/ANSI 61 for Drinking Water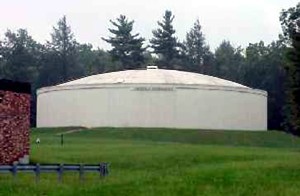 Ideal for remote tanks, where electrical power is not available.
Tank Coatings and Cathodic Protection
The effectiveness and durability of internal tank coatings have improved so much over the years that impressed current cathodic protection systems may no longer be the best alternative to protect the internal surfaces of a steel water reservoir. In fact, even automatically controlled rectifiers with the lowest rated current outputs have difficulty operating in the low current (milliamp range) and tend to be unstable and difficult to adjust at the low end of their operating range.

With low cathodic protection current requirements, a newly coated reservoir can be easily protected by a magnesium anode system when controlled by the POWERMAG 1000. This configuration automatically regulates the output of a magnesium anode system and eliminate any of the past "over voltage" issues seen with magnesium anodes.
Cathodic Protection Standards
AWWA and NACE standards suggest that tank-to-water potentials be maintained between -0.850V and -1.100V. Additionally, it is now common practice for cathodic protection designers to specify that all tank-to-water voltage potential measurements be "IR-Free". The POWERMAG1000 does both. It automatically maintains the potential and delivers IR-Free measurements.
New Cathodic Protection Technolgoy
Using the newest digital technology, the POWERMAG 1000 provides the user the ability to operate an automatic, constant potential, IR-Free cathodic protection system using only sacrificial magnesium anodes. This eliminates the need for power-thirsty impressed current cathodic protection systems and related maintenance issues of an externally powered system.
Product Comparisons
| | | |
| --- | --- | --- |
| System Features | POWERMAG 1000 | Other Controllers |
| Automatic Potential | Yes | No |
| IR-Free Potential Readings | Yes | No |
| Digital, Solid State Technology | Yes | No |
| No Need for AC Power | Yes | No |
| No Need for Batteries | Yes | No |
| Remote Monitor Ready | Yes | No |
Principle of Operation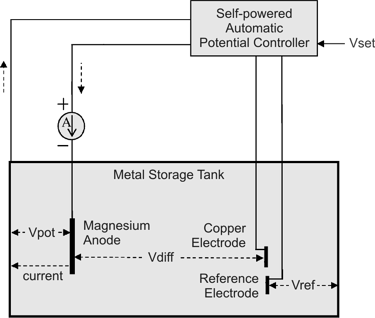 The key system components are the metal storage tank, electrodes, connecting cabling, and the POWERMAG 1000 self-powered automatic potential controller, which maintains a specified reference voltage Vref between a reference electrode and the tank. The tank and the system's magnesium anode form a galvanic cell, where current flows from the anode through the water electrolyte in the tank to the tank walls, which form the cathode. The anode corrodes very slowly, thereby protecting the tank from corrosion.

The controller is electrically coupled to the tank via cabling to complete a circuit through which current flows from the anode to the tank. The controller includes a current controller that is automatically adjusted to maintain the desired reference voltage Vref between the system's reference electrode and the tank. By adjusting this current controller, the current flow and thus the voltage potential Vpot between the magnesium anode an the tank are set to the desired value.

The controller also incorporates an automatic IR-Free potential control circuit, so that the system automatically compensates for a voltage drop Vref in the electrolyte water electrolyte between the reference electrode and the protected tank walls.

Power to the controller is generated by electrolytic action between the magnesium anode and an isolated copper electrode.
A new "Green" solution for an old problem
to save you time and money.
Items Included in POWERMAG 1000 Kit
(Part No. 17-94000)
POWERMAG 1000 Controller. Includes Stahlin #RJ806HPL fiberglass enclosure, control panel with digital display, and electrical connectors for cable terminations from anodes, reference electrodes (two maximum), structure (tank) electrode, and Power Electrode (see below).
Power Electrode. This is an M-shaped piece of copper sheet, 6″ wide x 96″ long, with an attached customer specified length of #10 AWG stranded and RHH/RHW insulated cable for installation inside the tank.
A customer specified length of #10 stranded cable with RHH/RHW insulated cable, blue in color, for above Power Electrode.
POWERMAG 1000 Operation & Maintenance manual.
POWERMAG 1000 log book.

Needed Items Not Included in POWERMAG 1000 Kit
Extruded magnesium anode rods with cable.
Anode header cable.
Splicing materials.
Copper sulfate reference electrodes (two maximum) with cable.
Mounting hardware (clevis insulator, hand hole covers, etc).
Conduit and conduit fittings.

While available from Farwest, if these items are already installed in the water reservoir, you may not need to replace them. Simply adapt the PowerMag 1000 kit to your existing, uncontrolled magnesium anode system.
Controller Specifications

IR Free, constant potential control.
Automatic potential set range, adjustable from -0.7 to -1.5 Vdc.
Two reference electrode inputs (one required).
LCD display indicating:
– IR Free potential
– System current in real time
– System set potential
Multiple front panel test points for system verification.
Output load rating of up to 2 Amps.
NEMA 4X, non-metallic enclosure.
Accommodates remote potential monitor.