Aluminum Sacficial Anodes for the Marine Industry
Description
Aluminum anodes have long been used in the fight against corrosion. Applications for aluminum anodes include ship hulls, tank interiors, offshore structures, submerged pipelines, piers, pilings, etc.
Typical Chemical Composition
Element
Percentage
Indium (In)
Zinc (Zn)
Silicon (Si)
Copper (Cu)
Iron (Fe)
Cadmium (Cd)
Others, each
Others, total
Aluminum
0.016 to 0.02%
4.75 to 5.75%
0.08 to 0.12%
0.003% Maximum
0.12% Maximum
0.002% Maximum
0.02% Maximum
0.05% Maximum
Remainder
Performance Characteristics
Anode Capacity
Potential (Calomel)
Consumption Rate
1150 amp hours per pound (Minimum)
1.080 volts (Minimum)
7.6 pounds per amp year
Available Sizes
Aluminum anodes are available in many different shapes, weights, and core configurations. While many of these configurations are listed in the following charts, many more anodes are available but not shown.

For assistance selecting the appropriate anode, contact a Farwest customer service representative for assistance.
---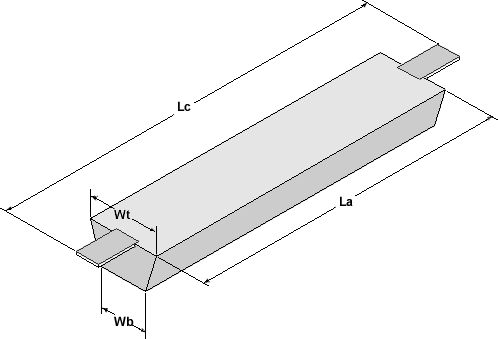 Anode
Number
Weight (lbs)
Length (in)
Width (in)
Height
Core
Dimensions (in)
Alum.
Core
La
Lc
Wb
Wt
H (in)
10FM
9
1
12
16
3½
3½
2½
3/16 x1¼
20FM
18
2
20
25
3
4½
2½
3/16 x1½
29FM
26
3
24
29
4½
5½
2½
1/4″ x 1½
37FM
34
3
36
41
3
5
2½
3/16 x1½
94FM
87
7
54½
62
4
4½
3¾
1/4″ x 1½
110FM
101
9
77
84
4
4½
3 3/8
1/4″ x 1½
144FM
135
9
72
84
7
8
3
1/4″ x 1½
270FM
245
25
90
102
6¾
7¼
4
1/4″ x 2½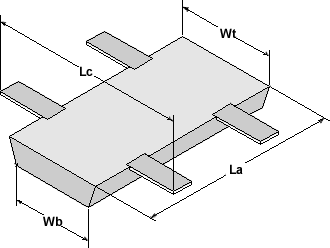 Anode
Number
Weight (lbs)
Length (in)
Width (in)
Height
Core
Dimensions (in)
Alum.
Core
La
Lc
Wb
Wt
H (in)
11FM
9
2
12
10
5
6
1½
3/16 x1¼
40FM
35
5
18
17
9
9
2¼
1/4 x 2
61FM
56
5
18
17
9
9
3 5/8
1/4 x 2
80FM
76
4
48
10
4
4
4
1/4″ x 1½
95FM
91
4
72
13¾
7
7¾
2
1/4″ x 1½
144FM
140
4
72
14
7
8
3
1/4″ x 1½
284FM
280
4
72
14
7
8
6
1/4″ x 2½
---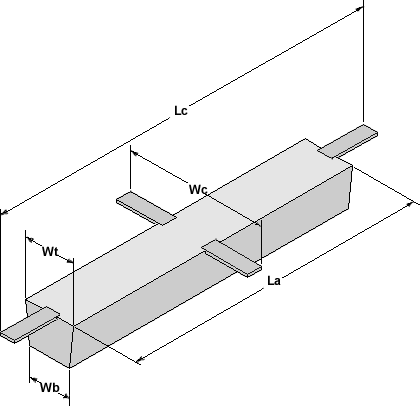 Anode
Number
Weight (lbs)
Length (in)
Width (in)
Height
Core
Dimensions (in)
Alum.
Core
La
Lc
Wb
Wt
Wc
H (in)
158FM
140
18
40
52
5¾
6¾
18¾
5½
3/8 x 2
237FM
212
25
60
68
5¾
6¾
12¾
6
1/2 x 2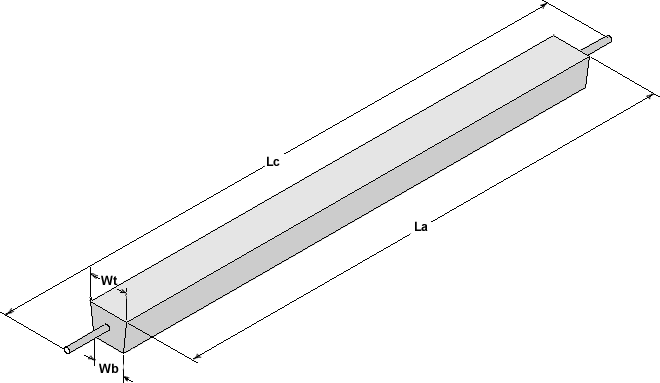 Anode
Number
Weight (lbs)
Length (in)
Width (in)
Height
Core
Dimensions (in)
Alum.
Core
La
Lc
Wb
Wt
H (in)
26RT
22
4
60
72
2
2
2
1/2
39RT
35
4
60
72
2
2½
2¾
1/2
89RT
80
9
86
98
2½
3½
3¼
5/8
120RT
111
9
64
75
4
5
4
3/4
145RT
134
11
77
88
4
5
4
3/4
157RT
150
7
60
72
4¾
5¼
5½
3/4
278RT
263
15
51
73
6¾
7¼
6½
1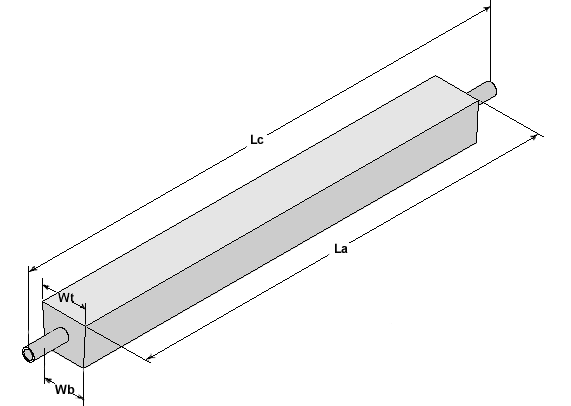 Anode
Number
Weight (lbs)
Length (in)
Width (in)
Height
Core
Dimensions (in)
Alum.
Core
La
Lc
Wb
Wt
H (in)
205PT
175
30
24
48
8
9
9½
3″ Sch40
290PT
244
46
29½
53½
9
10½
9½
3″ Sch80
320PT
287
33
68
80
6¾
7½
6½
2″ Sch80
351PT
313
38
77
90
6¾
7½
6½
2″ Sch80
375PT
325
50
96
120
5¾
6¾
6½
2″ Sch80
473PT
425
48
100
114
6¾
7½
6½
2″ Sch80
575PT
470
105
72
84
8
9
9½
4″ Sch80
668PT
548
120
84
96
8
9
9½
4″ Sch80
875PT
725
150
96
120
9
10½
9½
4″ Sch80